WELCOME!
The 2020 anniversary programme
Our museum starts a busy year with the 150th anniversary of the birth of Ernst Barlach on 2 January 2020.
You can look forward to state-of-the art lighting technology, unusual exhibitions, interesting activities for young people, online presentations from the collection, a bargain day ticket for all three Jenisch Park museums, opulent publications, celebrity Barlach well-wishers and musical treats in our popular concert series Klang & Form. You can find all the important dates and activities for 2020 here.
We look forward to seeing you!
"I am and remain the one I was, Ernst Barlach"

Ernst Barlach, 1899
Anniversary exhibition II
KOSMOS OST
Art in the GDR 1949–89. Works from the Dresden Albertinum
Opening expected in May – 13. September 2020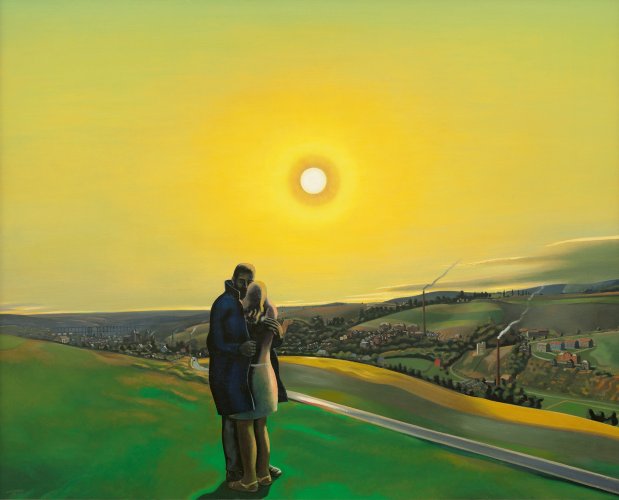 The presentation covers post-war painting and sculptures, 'socialist contemporary art' from the 1960s and 70s, and works by a younger generation of artists. A wide spectrum of themes, styles and positions can be discovered – from worker portraits to pop-art experiments, from objective to expressive, figurative to abstract, conformist to critical.
The variety and frequent ambiguity of the image worlds of East German art is still unfamiliar in the old Federal Republic even thirty years after the fall of the Berlin Wall. With works by 52 artists, this exhibition would like to broaden our outlook towards the Kosmos Ost. Exhibition
ERNST BARLACH. WOODWORK
Barlach's most important group of work, brought together in a splendid illustrated volume.
Making a start with the pieces in our collection, we then sent the Hamburg photographer Andreas Weiss on his travels to take new photographs of all the wooden sculptures by Ernst Barlach accessible between Lübeck and Zürich. The result of this mammoth project is the most comprehensive book on this work ever published. Of 85 existing pieces, 70 are illustrated in large-format colour plates. Fascinating long shots and close-ups rediscover Barlach's woodwork cosmos – a must for newcomers, connoisseurs and aficionados. Available in the museum shop from 5 January 2020, or to order from info@barlach-haus.de

Anniversary exhibition III
THE CHANCELLOR'S ART
The collection of Helmut and Loki Schmidt
4 October 2020 – 31 January 2021
Helmut Schmidt valued the arts both as a statesman and in private. Henry Moore's Large Two Forms in front of the chancellery in Bonn was an acknowledgement of the importance of art, as was his visit to Barlach's Hoverer in Güstrow Collegiate Church during his state visit to the GDR in 1981. Admiration for Barlach often brought the chancellor and his wife, Loki, to the Ernst Barlach Haus. Now we are the first museum to present the couple's private collection. The exhibition is being prepared in collaboration with the Helmut and Loki Schmidt Foundation and the Federal Chancellor Helmut Schmidt Foundation.